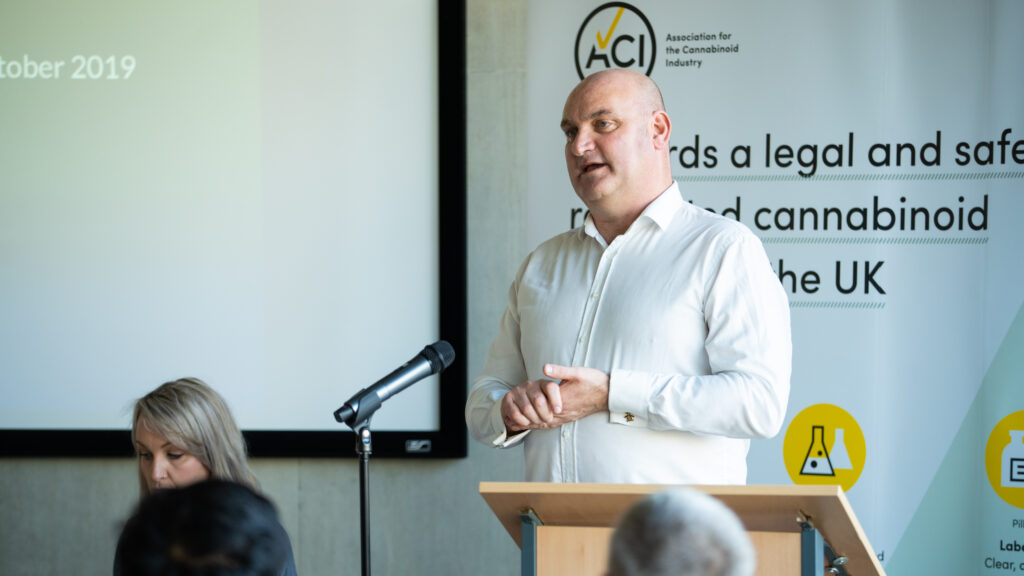 Friday 8th November saw the launch of a ground-breaking new industry body to foster a legally compliant, socially responsible and innovative cannabinoid industry – The Association for the Cannabinoid Industry (ACI). Key players in the sector came together for this inaugural conference to be introduced to the 7 pillars of the ACI Quality Charter and to hear from numerous experts in the field. Key speakers included Greer Deal and Dr Sarah Gaunt, Global Regulatory Services, Dr Parveen Bhatarah, Regulatory and Compliance Lead, Centre for Medicinal Cannabis (CMC) and Steve Moore, Strategic Counsel, CMC.
Topics discussed included the future of analytical testing for a safe cannabinoid industry and novel foods authorisation, followed by a panel discussion chaired by Dr Andy Yates, Pharmacy Lead, Centre for Medical Cannabis.
During the event, results from a new YouGov poll were revealed which showed that:
62% of UK adults are aware of cannabidiol (CBD) based products
Over one in ten (16%) had bought a CBD based product
However, 45% of those surveyed said they were not confident that all CBD products are labelled with the correct information and are properly tested by a regulatory authority
48% of people in the UK said they would be more likely to try CBD products if they could be certain that they had been produced to tight regulatory standards.
Speaking at the meeting held at The Foundry conference space in London, Steve Moore, Strategic Counsel, CMC said "The CBD sector is an extraordinary story of a new industry in massive growth. However, we are now facing a moment of reckoning and we need to fully embrace regulation. The new YouGov poll clearly shows that consumers are looking to us for reassurance on quality above all else – half the population is not looking at CBD products because they don't trust them. If we work together as an industry, we should be aiming to get that down to 25%."
* Methodology: This survey has been conducted using an online interview administered to members of the YouGov Plc UK panel of 800,000+ individuals who have agreed to take part in surveys. Emails are sent to panellists selected at random from the base sample. The e-mail invites them to take part in a survey and provides a generic survey link. Once a panel member clicks on the link they are sent to the survey that they are most required for, according to the sample definition and quotas. (The sample definition could be "GB adult population" or a subset such as "GB adult females"). Invitations to surveys don't expire and respondents can be sent to any available survey. The responding sample is weighted to the profile of the sample definition to provide a representative reporting sample. The profile is normally derived from census data or, if not available from the census, from industry accepted data.