Updated 25 September
With just 6 months remaining, for CBD companies to have a valid novel foods application for each of their products, the ACI has received confirmation from the FSA that these dossiers must include toxicology safety study data and literature-based information is not sufficient. This is to address concerns expressed by the Committee on Toxicology.
This means:
Novel foods applications will not be validated without the inclusion of toxicology safety data*.
This data does not exist and must be generated. Relying on data in the public domain is not sufficient.
The cost of generating this data will be hundreds of thousands of pounds. Depending on the complexity of the finished product could cost between £300k to £1M.
ACI Safety Study Consortium will generate this data allowing companies to share the costs.
*FSA clarified this further in their guidance issued on 24 September.
The ACI hosted a panel discussion outlining the implications of this recent confirmation.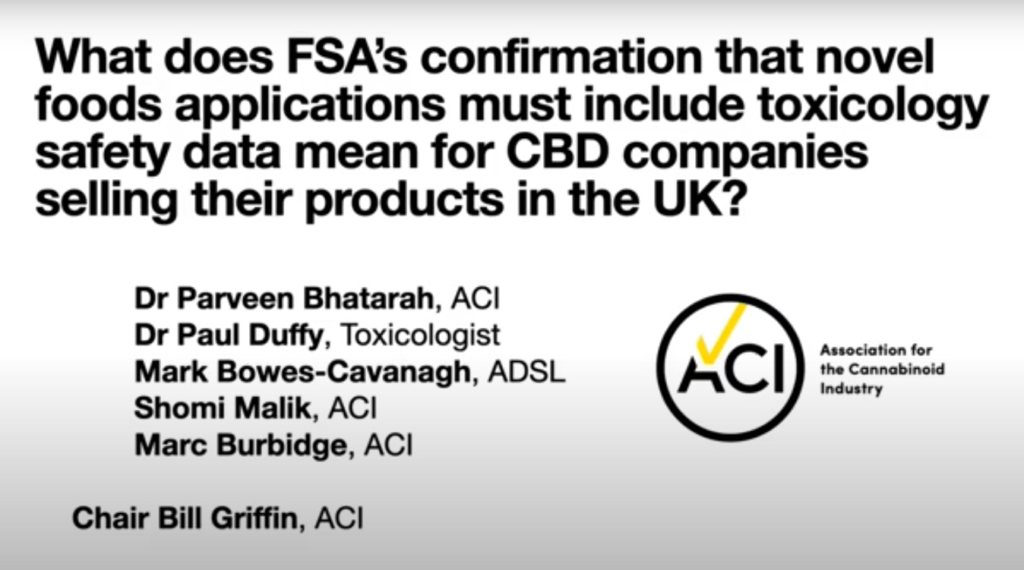 This is essential viewing for any CBD company wanting to sell CBD as a food in the UK post 31 March 2021.
Join us for a free Safety Study Webinar 4pm Friday 25 September – register and submit your questions here.
Related content : ACI Safety Study Consortium FAQ