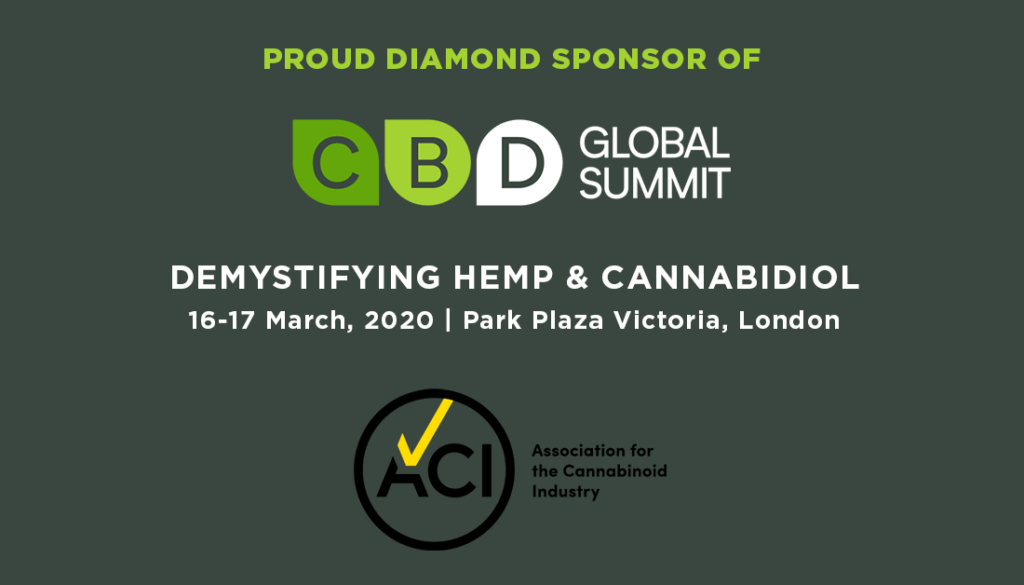 The Association for the Cannabinoid Industry (ACI) is delighted to announce its partnership with The Grocer as a diamond sponsor for the publication's first ever CBD Global Summit on the 16th-17th March 2020.
This two-day pioneering conference event taking place at the Park Plaza Victoria, London aims to demystify hemp and cannabis in fast-moving consumer goods (FMCG). It is being held in collaboration with The Grocer's sister publications FoodNavigator, NutraIngredients and CosmeticsDesign and presents an exciting opportunity for the ACI and its members.
This summit comes amid a rapidly growing demand for CBD in industries such as food, drink, wellness and beauty in the UK. The ACI was formed in response to this and brings together leading businesses and experts committed to fostering a legally compliant, socially responsible and innovative CBD industry, which puts customers' safety first. At the ACI's own ground-breaking CBD summit held in London on 8 November 2019, new statistics were unveiled indicating this expanding CBD market; results from a YouGov poll showed that a staggering one in ten adults (16%) in the UK had tried a CBD product. Estimated to be worth £1 billion by 2025, the UK CBD market is showing no signs of abating.
Global expert speakers and panellists from sectors including food, drink, pharma, retail, health and beauty, medical science and biotech will be coming together at the upcoming CBD Global Summit. The conference will provide a unique platform to profile pioneering brands, cutting-edge science, regulatory know-how and the consumer insight needed to capitalise on this huge growth opportunity.
The diamond partnership will help shine a spotlight on the newly established ACI to further raise its profile and enhance its reputation by putting forward its own expert speakers and panellists, hosting a roundtable discussion and an information stand in the main networking area of the conference. All this will allow the ACI and its members to promote their work, share their insights on the CBD industry, network with other key players in the sector and recruit new members.
Shomi Malik, Development Director, ACI, comments, "In what is fast becoming a moment of reckoning for this industry, our unequivocal commitment is to provide the required stewardship to support the development of a legal, safe and regulated cannabinoid industry in the UK. Today's announcement represents another key milestone on this path. We look forward to connecting with other key players in this nascent industry; it's vital that we all share our experiences and work together to ensure that standards are met."
Key themes of the conference are:
Consumers and markets – Health and nutrition
Retailers and brands – Supply and quality
Regulatory environment
In particular, the regulatory environment topic will enable the ACI to promote its Quality Charter and clarify the currently murky legal status of CBD products in the UK to other companies present at the conference. Fundamentally, the ACI will be able to highlight imperative next steps such as the importance of implementing a standard analytical testing method across the industry and the correct pathway to CBD products attaining Novel Foods status.
Dr Parveen Bhatarah, Regulatory and Compliance Lead at the ACI, and one of the key speakers at the conference says, "It's imperative that this industry has a robust, standard analytical testing method to measure cannabinoid content within different CBD-based products. Any company in this space will no doubt have faced a number of problems when analysing cannabis products. If there is no standardisation, there is no recourse for companies or customers to question test results. The ACI's efforts in addressing this broad-ranging subject is significant for the industry to move forward. It's great to see such a varied and credible programme at the upcoming CBD Global Summit. Bringing together manufacturers – alongside retailers, scientists, regulators and other key players from both the UK and internationally – will allow us to get the core of the industry's issues in a crucial and topical debate."
The full conference agenda will soon be available online at www.thegrocer.co.uk. Follow the Twitter and Facebook pages @CBDGlobalSummit, using the hashtag #CBDGlobalSummit. Find out more about the ACI at its website, https://www.theaci.co.uk/

ENDS
For further media information or to request an interview, please contact the ACI Press Office; Imogen Daldy, imogen.daldy@trinitypr.co.uk or Caroline Beswick, caroline.beswick@trinitypr.co.uk / 020 7112 4905