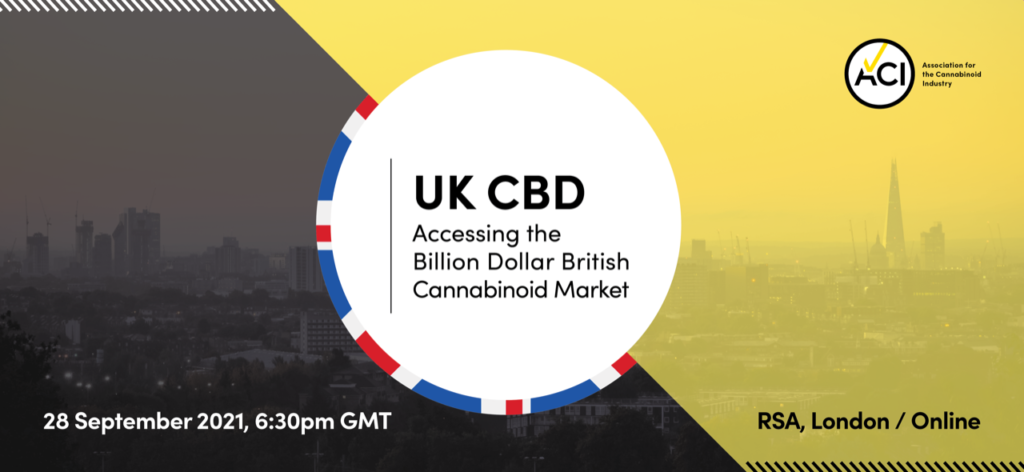 When: Tuesday September 28, 2021
6:30pm GMT (London) | 2:30pm EDT (New York) | 12:30am MDT (Denver) | 11:30am PDT (Los Angeles)
Where: RSA, London and online
Price: Free
Did you know that retail sales of CBD in the UK are set to reach $1billion this year? This makes it comfortably the second largest market for consumer cannabinoids worldwide, only eclipsed by the US.
You are invited to a special event, hosted by The Association for the Cannabinoid Industry (ACI), which will provide your business with the essential information you will require to enter the UK market.
ACI is the UK's premier organisation supporting legally regulated cannabinoid companies in the UK. Over the course of the last year our team of unrivaled experts and partners have helped businesses like yours from the US, Canada, the EU, South America and Australia to navigate the complex regulatory and logistical challenges of entering the UK market.
On 28th September we will host a 'hybrid' event – UK-CBD – Accessing the Billion Dollar British Cannabinoid Market – at the RSA in London. You can join us either in-person or online.
Tickets are limited, so book early to avoid disappointment.
Agenda
Welcome introduction | Steve Moore, Lead Counsel and Founder, ACI
Regulatory application support | Laura Williamson, Membership Manager, ACI
Toxicological data | Dr Parveen Bhatarah, Head of Regulatory and Compliance Associate, ACI
Legal support | Dr Beatriz San Martin, Partner, Arnold & Porter
Strategic communications support | Richard Clarke, Managing Director, Ingredients Communications
By attending this event you will leave with a clear understanding of how the ACI can ensure you
Submit the scientific dossiers for market authorisation in the UK (and EU)
Access the mandated toxicological data to support successful Novel Foods applications
Recruit the best team to drive your UK operation
Access the best strategic communications and branding (B2B and B2C) support
Receive exemplary legal advice
ACI offers solutions for raw material suppliers, manufacturers, brands and others operating in this space.