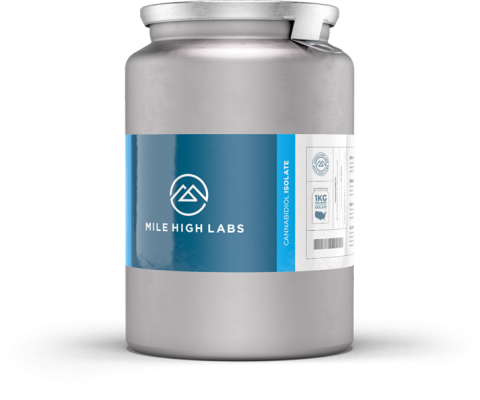 The Association for the Cannabinoid Industry (The ACI) today congratulate Mile High Labs on the submission of their CBD Novel Foods dossier to the European Food Safety Authority (EFSA) and the UK Food Standards Agency (FSA).
This news follows confirmation from the FSA that they do not intend to extend their deadline of 31 March 2021 for CBD products on the UK market to have a validated Novel Foods application. They also confirmed that they are now receiving high quality dossiers from companies wishing to remain available for UK consumers after 31 March 2021.
Raw material manufacturer, Mile High Lab's application covers their CBD isolate ingredient and their CBD isolate-based finished products. Their application is the culmination of ten months' work to generate the required data and compile information to support the product's quality, consistency and safety.
Should the application become validated it will put Mile High Labs in a strong position in the European CBD market. This is due to the fact that brands using their raw materials would have a headstart in producing their own CBD dossiers. Despite using a raw material that has validation from EFSA and FSA, brands must submit their own CBD dossiers to ensure their distribution channels are not disrupted come the 31 March deadline. Given the time taken to gather the necessary data this is a process that companies must be undertaking now.
In February, the FSA stated that all CBD products on the UK market must have a validated Novel Foods application before 31 March 2021. Under their requirements, any CBD food products failing to gain regulatory approval before the 31 March 2021 deadline will be taken off the shelves. Validation is the first phase of the Novel Foods Authorisation process. It is a signal from EFSA that the application is credible and includes all the necessary information. Once validated the application will be assessed for full Novel Foods authorisation, a process that could take years.
Mile High Labs urge CBD brands to be sure their supplier is taking the appropriate steps towards compliance. The ACI are advising their members to be in communication with their raw material suppliers to generate the relevant safety and compliance data required to get their CBD dossiers validated by EFSA and the FSA.
Quotes
Dr Parveen Bhatarah, Director, Regulatory and Compliance Unit, The ACI
"The FSA expects all companies operating in the UK CBD industry to demonstrate that their products are safe for human consumption. Getting a Novel Foods dossier validated is the way a company does this. In particular, CBD raw material suppliers need to ensure they have made an appropriate risk assessment and can supply the relevant safety data. Although 31st March 2021 is the deadline for Novel Food application validation, if companies do not have appropriate stability data or toxicological data then time is running out. The ACI will support companies that do not have the relevant in-house regulatory expertise."
Dr Andy Yates, Pharmacy Lead, The ACI
"The FSA has always been clear they expect UK CBD companies to work towards Novel Foods authorisation. Recently they set a deadline for companies to meet. This deadline may seem a long way off, particularly with things that are happening around us right now. However, it is approaching fast given the work that needs to be done. The time is now for CBD companies operating in a grey zone to start the process towards ensuring they can hit the deadline to get their CBD dossier validated and become legally compliant."