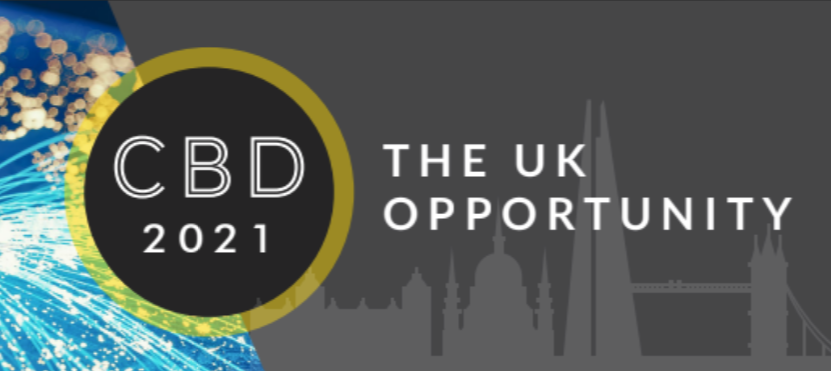 The UK is fast becoming a world leader in the cannabinoid industry. It is one of the only countries in the world to have a clear regulatory framework for cannabidiol (CBD) products and has a thriving CBD industry.
When: 9 December 2020
Time: 8am-10:30am PST / 11am-1:30pm EST / 4pm-6:30pm GMT
Cost: Free
Location: Online – Registration closed
At this event "CBD 2021: The UK Opportunity" attendees will learn more about the potential of the UK CBD market (and by extension other cannabinoids), how upcoming changes to the UK legal framework could drastically reduce the number of market participants and how established companies can move into this space with the confidence their products are legally compliant.
CBD: Pathway to legal compliance
On 31 March 2021, guidelines set by the UK Foods Standards Agency (FSA) will come into effect and transform the CBD market, which is projected to be worth £1billion by 2025. From the 1st of April 2021 any finished CBD food product sold in the UK must be covered by a validated novel foods application. Due to the cost and complexity of attaining this validation many small players will suddenly find their products are no longer legal. This offers a particular opportunity for companies who are committed to meeting food safety standards criteria set by the FSA.
The ACI: your partner in the UK CBD space
The Association for the Cannabinoid Industry (ACI) is a membership organisation committed to a safe, legal and well regulated cannabinoid market in the UK. We work closely with regulators in the UK to ensure we are well versed in the legal obligations for companies in this space. We're helping our members keep their products on the market in 2021 with initiatives such as our CBD safety study consortium which has made headlines around the world.
Speakers
Dr Beatriz San Martin, ACI Legal Counsel, Arnold & Porter
Dr Andy Yates, Pharmacy Lead, ACI
Dr Rosemary Mazanet, Columbia Care
Dr Parveen Bhatarah, Regulatory and Compliance Lead, ACI
Shomi Malik, Development Director, ACI
Chair: Yasmin Hutchings, Membership Secretary, ACI
Opening and closing remarks: Steve Moore, Founder, ACI
When: 9 December 2020
Time: 8am-10:30am PST / 11am-1:30pm EST / 4pm-6:30pm GMT
Cost: Free
Location: Online – Registration closed
In collaboration with